Kitchen Table School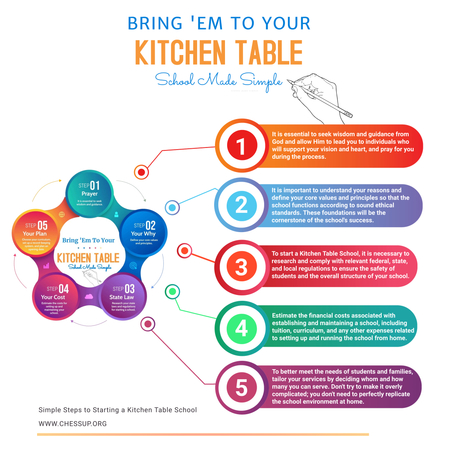 Who can start a Kitchen Table School?
Anyone can start a Kitchen Table School. Starting a school from the comfort of your home is now easier than ever! With a Kitchen Table School, anyone - parents, homeschool parents, retired teachers, community members, clergy members - can create one with just five students. This stress-free approach provides an innovative and unique way to help one's neighbors.
Kitchen Table Schools provide an individualized, one-on-one student environment, allowing them to explore their interests, take classes on various topics, develop self-direction and critical thinking skills, and reach their full potential.
Why start a Kitchen Table School?
The primary goal of this unique approach to education, similar to co-ops, pods, and micro-schools, is to create a cost-effective yet beautiful alternative to traditional schools for our community and to reimagine an education system that works for us and is controlled by us rather than by the government.
Booker T. Washington envisioned our children attending school to learn reading, writing, arithmetic, and understanding our resilient history. These skills are essential for character development, economic freedom, exercising citizenship, acquiring vocational and trade skills, entrepreneurship, and career development.
It is a simple yet great way for parents to take an active role in their children's education by being involved in a safe learning environment that focuses on their child's individual needs.
STEPS TO STARTING A KITCHEN TABLE SCHOOL
1. PRAY
It is essential to seek wisdom and guidance from God and allow Him to lead you to individuals who will support your vision and heart and pray for you during the process.
2. KNOW YOUR WHY
When starting a Kitchen Table School, it is important to understand your reasons and define your core values and principles so that the school functions according to sound ethical standards. These foundations will be the cornerstone of the school's success.

Naming your school is one of the first steps to start the process; it will be essential for almost any document and paperwork you need to do going forward.
3. LEGAL
To start a Kitchen Table School, it is necessary to research and comply with relevant federal, state, and local regulations to ensure the safety of students and the overall structure of your school.

In Illinois, private schools are not subject to any form of accreditation or licensing as long as students receive an education equivalent to that of public schools.

Illinois does not have specific insurance requirements for private schools.
4. YOUR COST
It's incredibly economical to rescue a child from the indoctrinated environment of public schooling and provide them with a quality education from your kitchen table. Let's take the homeschooling average as an example. On average, homeschooling costs $500 to $2,500 per child per year, including curriculum, books, school supplies, field trips, and extracurricular activities.

Estimate the financial costs associated with establishing and maintaining a school, including tuition, resources, and other expenses related to setting up and running the school from home.

There are many ways to pay for your school's operating budget, such as collecting tuition, soliciting private donations, and families sponsoring students. All these options provide an effective way to finance educational expenses.

If you're looking to apply for a grant, be aware of potential government interference. Always review the fine print when applying, and remain mindful that certain regulations could be imposed on you.

Illinois does not provide direct funding for private education; however, taxpayers who have paid tuition for K-12 students may be eligible for an Education Expense Tax Credit to cover the qualified education expenses.
5. YOUR PLAN
To better meet the needs of students and families, tailor your services by deciding whom and how many you can serve. Don't try to make it overly complicated; you don't replicate the school environment at home.

Curriculum Requirements: Instruction must be in English for language arts, mathematics, the biological, physical, and social sciences, the fine arts, and physical development and health education.

Consider your curriculum of choice before deciding to buy, as tons of free resources are available. Ensure your values and principles (Biblical worldview) are interwoven into the curriculum; it should be educationally sound, meeting all the academic benchmarks of quality, especially regarding civics education and Black history, which are sometimes omitted or watered down. Check to ensure the curriculum is free of sociopolitical ideologies and explicit sexual content.

Teacher Qualifications: No requirements are necessary for non-public teachers.

Length of School Year: Although not mandatory, it is highly recommended that you create and maintain a consistent routine and attendance plan for your program. You could either follow the same yearly schedule used by local public schools or make your own schedule.

Record-keeping & Reports: Even though there are no specific rules about keeping records, we strongly suggest that you maintain detailed records of your program. This will be beneficial in the long run and help you stay organized. In addition, it is the responsibility of the school to supply evidence of the student's educational progress, such as report cards, syllabi, attendance records, and standardized test results (if applicable).

Develop a plan of action with a timeline and deadlines to implement all the decisions that have been made and establish an official opening date to make sure the school runs smoothly and effectively; it is important to set clear guidelines and expectations for parents and students.
We don't have to keep our children in or send them to the indoctrinated cesspools known as public schools. Instead, let's work together to create a safe learning environment that promotes godly character and quality education, propelling and enriching this generation of children with a lifelong passion for learning.
Are you ready to take your passion for education to the next level? Look no further! Contact Evangelist Latasha H. Fields, a passionate home educator, to assist you in starting your own school.
Book your appointment with Latasha now and learn how you can become a trailblazer in education at Book Here
If you would like to download the graphics, click here