Core Curriculum
"Teach Them Diligently"
Deuteronomy 6:6-8
We recognize and respect the uniqueness of each child, therefore dedicated to working alongside parents to provide needed resources in aiding children to succeed at the next academic level with the guided strength of biblical principles, affordable education, and know-how. We're prepared to meet the educational needs of all families. For that reason, our school functions as a cooperative venture. It utilizes the A.C.E. program to allow parents the flexibility to assist in the classroom and participate in the educational program of all the children, thus making it indeed a cooperative venture. Through this concept of cooperative individualization, children experience a sense of community, self-discipline, mastery-based achievement, motivation, and enriched educational advantages of a Christ-like homeschool atmosphere.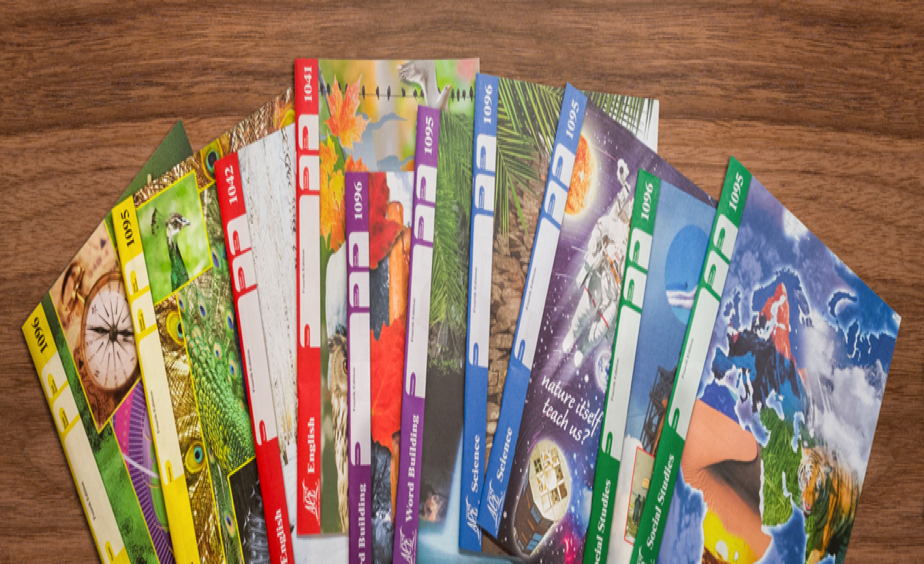 Accelerated Christian Education is a Bible-based Christian K–12 curriculum.
The A.C.E. curriculum is skillful in its unique, artistic, and practical ability to create individualized levels of learning and biblical principles into everyday academics. Students work at/her own pace. Each child learns to follow their curiosity, allowing them to think creatively and work independently and cooperatively with others.
A.C. E.'s overall concepts are based on the Five Basics Laws of Learning:
First, a child must be at a level where he can perform.

He must have reasonable goals.

His learning must be controlled, and he must be motivated.

His learning must be measurable.

His learning must be rewarded.

While conventional classrooms group students by age or grade, we group them by ability. This is done through diagnostic testing. The curriculum is mastery-based, infused with character development, embedded biblical foundation, creative phonetic-based reading, computer interactive learning, and much more. Diagnostic testing is not dependent upon the achievement of a certain level. Many private schools require high academic levels for lock-step chronological grading. However, A.C.E.'s entry-level diagnostic testing is not designed to screen students who are underachievers; its purpose is to diagnose all students to prescribe the correct levels of the curriculum. Most children can be admitted if they can be disciplined.
Through individualized-based learning, Ky'Ijel Group Christian Academy students tackle academic curricula in engaging, meaningful, adaptable, and tailor-fitted to various learning styles and fun.
These principles assure parents of:
A solid, mastery, back-to-basics education for their child.

A course of study is diagnostically individualized to meet a student's specific learning needs and capabilities.

A program incorporating Scripture, Godly character building, and wisdom principles.

A Curriculum using advanced computer technology to help ensure the finest education possible in today's high-tech climate.

A curriculum uses diagnostic testing to place the child at his exact academic ability level.

A curriculum incorporated personal goal setting and character traits into the daily program.

A curriculum that teaches critical thinking skills that produce academic excellence.

A curriculum that utilizes multimedia and computer technology.

A curriculum and school that encourages parental involvement!
Accelerated Christian Education is more than just a publisher of PACEs—it is a program that shapes young minds with sound, Biblical concepts; it helps schools, homeschools, and educators reach their full potential.
A.C.E. core curriculum provides students with academics, skill building, reading practice, character and wisdom training, and knowledge of God and His Word. This complete package begins with reading development and progresses through high school, giving students a solid foundation for pursuing their life goals.
More skilled students may progress faster or accelerate in the areas of their academic strengths. Slower students are encouraged to do their best but can work at their proficiency levels and proceed as capable. Each core subject comprises 12 PACEs (Packet of Accelerated Christian Education) per level.
Typical students work daily on one PACE in each subject and may perform at varying levels. The diagnostic test results help to identify academic weaknesses and prescribe a path to help students catch up. Most students complete at least 70 PACEs per year while maintaining intellectual balance by completing about the same number of PACEs in each assigned subject.
KGCA Enrichment Classes (cost varies per course and materials)
We focus on academics and enrichment courses that will meet your child's educational goals and cultivate life skills. We desire to nurture a lifelong love of learning while developing critical thinkers and articulate and confident leaders. One of the many reasons that independent private Christian schools such as KGCA continue to exist is parents' strong desire to overexpose their children more than the core curriculum.
KGCA is deeply invested in delivering an exciting array of enrichment classes to our students, taught by passionate parent educators that want their children to succeed. Our enrichments are available to all of our students – from P.K. through twelve grade – and are consistently noted as one of the reasons parents seek this type of education for their children year after year. Enrichments classes such as art, foreign language, music, science, technology, finance, adventure learning, health, physical education, and much more allow children to explore who they are and what makes them truly great. Working on life-enriching and sustaining skills is at the heart of our program.
CHESS Enrichment Classes (cost varies per course and materials)
Families and homeschoolers participating in a cooperative homeschool atmosphere enjoy relationship-building skills that create lasting memories that your family will cherish forever! Connecting with others and sharing educational programs, activities, ideas, and resources guarantee a comprehensive supportive community for all families. Interacting with a community of other parents who share your faith, values, beliefs, and commitment to quality education and receiving generous support from other parent educators as you dedicate your time unleashes unlimited advantages and opportunities for the entire family.
The Co-op academy's primary goal is for Christian families to share the love of Jesus Christ by sharing their gifts, favorite teaching subjects, interests, passions, and creativity with others. This cooperative learning time will supplement, enlighten or compliment existing electives or enhance core subjects already being taught or expressed in the home. The responsibility of educating our children is given to the parent by the commandment of God, Deut 6:5-9. We believe "strongly" that nothing should replace the parent's involvement in their child's foundational training and education. Our parent volunteers serve various roles in educating their children and are vital to the success of our co-op experience. Remembering, school/co-op does NOT replace the part of the parent; it only aids or compliments the home education and training of one's child.