KGCA Uniforms
Dress Standards at KGCA
The social standards are quickly deteriorating society and the lax dress codes in most public schools create an ever-greater contrast between the high standards of a Christian school and the world at large. Having no dress standards tend to undermine the character and strengthen of the school. Also academic achievement is closely linked to student grooming and modest dress standards, therefore we enforce uniforms to ensure compliance with dress standards. Modest uniforms help eliminate most discipline problems. Standardized uniform are required for KGCA staff, ALL students including virtual learning students.

The lifestyle to which the student conforms in school affects both his attitude today and many decisions he will make in the future. Experts claim that there are many benefits of school dress codes. Here are some of the most important advantages:

1) Uniforms promotes a more serious school atmosphere which emphasizes academics and promotes good behavior.

2) Uniforms have proven to increase student achievement by encouraging students to concentrate more on their studies and less on their wardrobe. A de-emphasis on clothing can also save money, as there will be less pressure to keep up with expensive trends and fashions.

3) Uniforms in school settings reduce social conflict and peer pressure that may be associated with appearance.

4) Studies indicate that a school uniforms can reduces the prevalence of certain behaviors, which are often expressed through wardrobe such as violence or promiscuity.

While teenagers will always find a way to express themselves, imposing boundaries can prevent them from resorting to extremes that can sometimes lead to undesirable consequences. School dress codes are a way to teach students the importance of a respectable appearance, which is a lesson that can positively impact their self-respect and self-esteem.

KGCA Uniforms
Dress Code
KGCA Boys: Must wear Dickies pants, or casual slacks or dress pants, etc.

KGCA Girls: Must wear dress pants, casual slacks or mid-length skirts, etc.

NO Denim jeans or jean like material.

NO sweatpants, or sweat shorts, jogging pants, workout clothes or none of its kind is to be worn to school!

Shoes: Students must wear shoes that are classified as school shoes, casual, dress shoes to schools. NO gym or tennis or basketball shoes, etc., are to be worn to school on Tuesday, Thursday or Friday.

CHESS Co-op on Wednesday: Safety Green T-shirt and jeans, shorts or modest skirts. Student may wear gym shoes, tennis shoes, basketball shoes, etc.

NO sweatpants or jogging pant or jogging shorts or none of its kind is to be worn.

KGCA Students may earn a free dress day. The Key is EARN it!

KGCA Uniforms
BOY UNIFORMS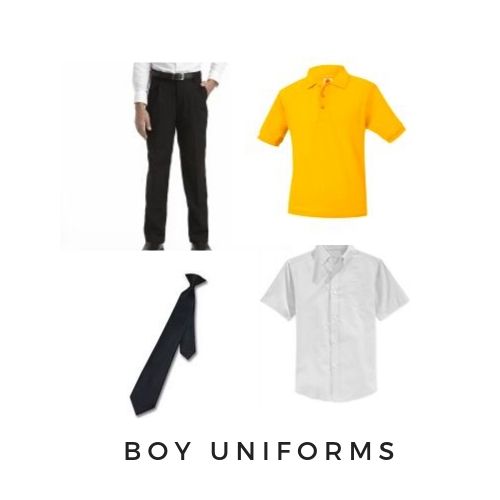 ZEMSKYS UNISEX BLACK UNIFORM PANTS: $10.88-14.95
BOYS ADJUSTABLE SCHOOL UNIFORM TIE: $4.99
KGCA Uniforms
GIRL UNIFORMS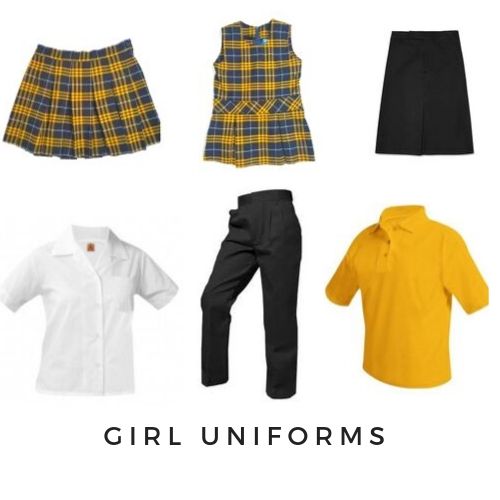 ZEMSKYS UNISEX BLACK UNIFORM PANTS: $10.88-14.95

FRENCH TOAST BLACK LONG SKIRT:$15.98-$19.98

PLEAT SKIRT STYLES ARE FOUNDED AT YOUNGFASHIONS.COM IN BATON ROUGE, LOUISIANA:

STITCH DOWN PLEAT SKIRT- STYLE 11
$44.00

DROP WAIST JUMPER- STYLE 00
$44.00